To complement our parts business, we offer upgrades, refurbishment services, size conversions, installation & de-installation. We also offer field service support which could include; troubleshooting, fault finding, preventative maintenance.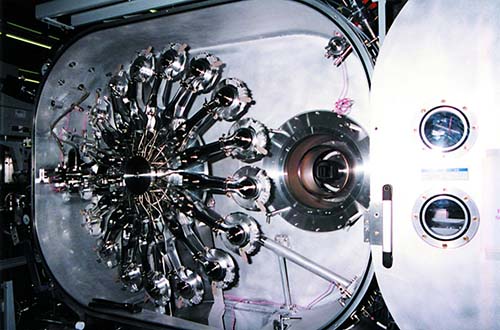 Source or Size Conversions
We can deliver wafer size or source upgrade, so you can enhance your equipment. All process or wafer size conversion kits are delivered, installed and qualified with minimum impact to your operation. Whether it is a field upgrade or you desire to install a used tool purchased at auction, IES can support your needs.
IES undertake 6", 8" and 12" inch size conversion kits for AMAT implanters. We provide the full kit and resource to convert your system to the size you need. In some cases we are able to offer customers trade in cash towards the original kit.
Implanter size conversion includes:
Fully tested Hardware Kit

Removal of existing Kit

Installation/Conversion, Start-up & Tests

Requalification including Process and Acceptance tests

Warranty

Onsite support including phone support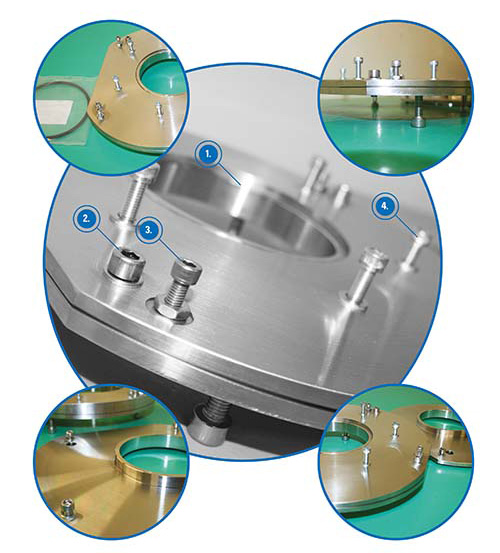 IES Implant - Geometric Spacer
IES have worked closely with customers to design and manufacture a Geometric Implant Spacer. Compatible with batch implanters, the spacer will improve wafer handling and process efficiency.
Whether it is for a size conversion or to replace the existing spacer IES' geometric spacer will help save time, and reduce cost. The adjustable spacer will achieve any desired angle while maintaining vacuum thanks to its precise manufacturing and design tolerances.
Manufactured from a high grade stainless steel, the spacer has a VITON O ring precisely allocated in the coupling. 4 UNF screws allow the spacer to change angle on every axis resulting in precise wafer handling set up.
IES has found over the years that there has been a number of spacers which have been incorrectly measured which has left many customers with bad wafer handling, the only fix for this has been to shim the spacer which can compromise the vacuum or not fully cure the problem.
Spacer Image Key
(1). Viton O-Ring Location
(2). Final Bolt-down Screw
(3). Adjusting Screw
(4). Motor Mount Screw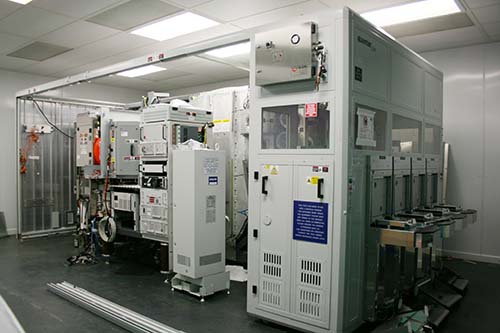 Equipment Refurbishment
IES provides a comprehensive refurbishment service for a wide range of advanced semiconductor production equipment and subsystems.
We undertake refurbishment of semiconductor production equipment including Ion Implanters, Wafer Tracks, RTP and other types of equipment. Our team of highly specialised and experienced engineers consistently delivers the highest quality service at significantly lower cost. In addition, we offer a full range of OEM upgrades, retrofits, field engineering support, corrective maintenance and annual preventive maintenance contracts.
Parts Sourcing
If you are looking for a particular part we can help you to source it through our worldwide network of partners, suppliers and customers.
Benefits
Time saving – Tell us what you need and let us do all the hard work. We will save you the time and effort to locate the part, inspect it and ship it to you all at the best price possible
Peace of mind – All our parts come from reliable sources, complete with our guarantee
Total solution – We can provide all the necessary expertise and resources required to de-install, ship and re-install your purchase worldwide, with a guaranteed start- up; if the tool needs an upgrade to match your specification our experienced engineers can re-work as necessary on-site
Best in class service – Our field engineers are highly experienced and readily available, even at short notice, to assist you if a tool is down or needs maintenance work to reduce down time.
Equipment Installation
Since 1991 our engineering skills have been providing clients with effective solutions for a wide range of engineering requirements, including:
CE Testing
Clean room protocol experience
Decommissioning/ commissioning
Equipment fault finding and preventative maintenance services
Equipment modifications
Machine installation
Machine shutdown
Machinery removal
Product safety design reviews
Related logistics services (including export packing for shipping).
We offer a wide range of machinery installation experience including microelectronics, pharmaceutical, digital printing and other high-technology sectors, dealing with high-value, delicate equipment in ultra-clean environments. With these transferable skills, we are equally capable of working with equipment in many other industries.
Our engineering services can be combined with logistics solutions such as freighting, packing and customs clearance. So, whether your business is a start-up targeting European growth, or an established equipment manufacturer looking to streamline its engineering and logistics activities, IES has the integrated package to offer a tailored turnkey solution.
Call us at +44 (0)1179 380 600, or email us for more information about our services.