AMAT xR80 Implanter For Sale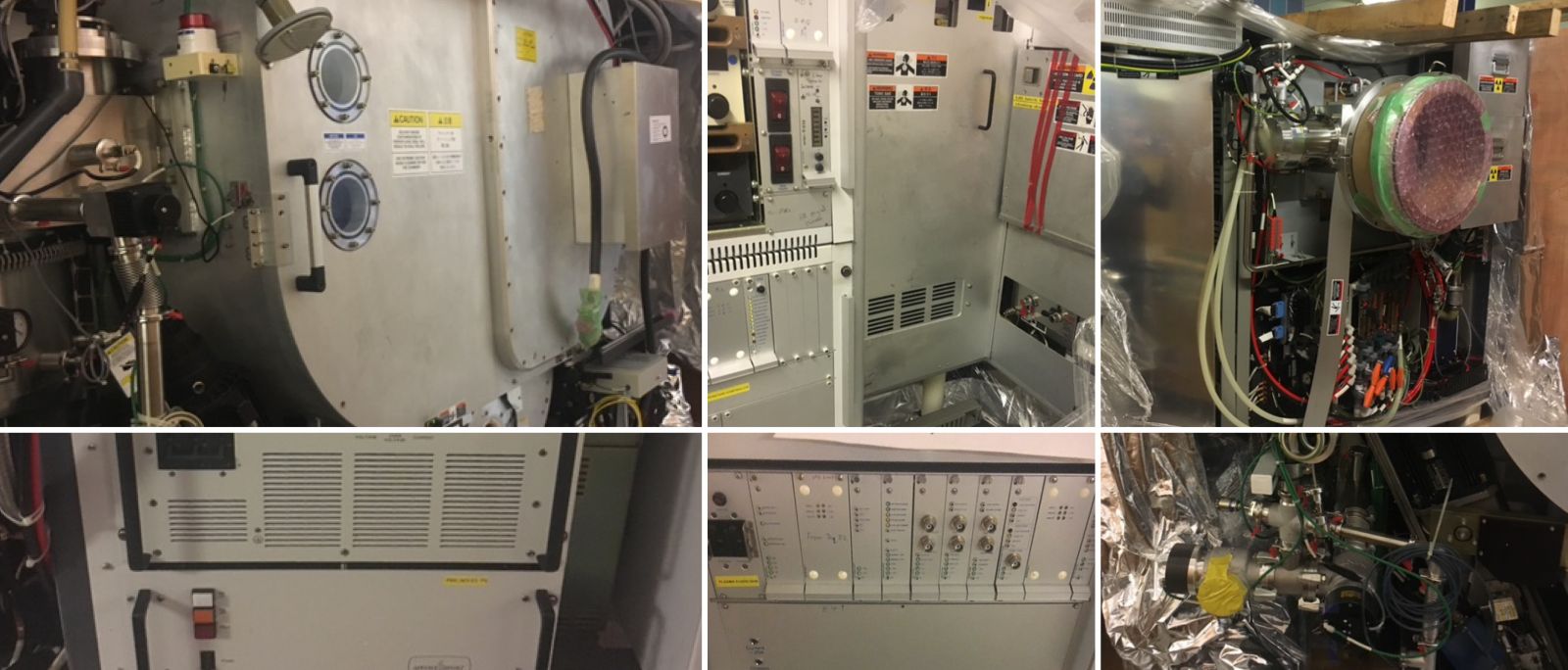 General Specification
| Cat | Description |
| --- | --- |
| Vendor/ Supplier | Applied Material |
| Model | Xr-Leap |
| Process | Low Energy Implanter |
| Vintage (Year of Manufacture) | 1996 |
| Serial No. | M405 |
| Fixed Asset No. | 7PE0001 |
| Asset Description | AMT XRLEAP xR |
| Software Version | 4.11 Beta |
| CIM | Linked |
| | |
| --- | --- |
| System | HIMP-A04 |
| Production | On-Line |
| Software | |
| HardDisk Size | 4GB |
| RAM | 128MB |
| Hardware | |
| Cooling System | Heat exchanger/closed loop de-ionized water cooling system |
| Wafer Loader | 3 carousel paddle |
| Wafer Orienter | Batch Notch Orient |
| Wheel Chamber | 17 Heatsinks (200mm) |
| Control System | Fibre Optic communication network (DAQs) |
| Control Module | VME microprocessor |
| Plasma Flood Gun | HDPFS (High Density Plasma Flood System) |
| Beamline | IHC (Indirect Heated Cathode) |
| Gas Panel Option | SDS (Safe Delivery System) toxic gas modules for AsH3 and BF3 |
| Tilt | Variable implant angle, +/-10 degrees |
| | |
| Consummable | |
| Source Bushing | Enhanced |


Applied Materials xR80 Implanter (serial number M405, 200mm) for sale. Freshly in stock, this implanter is a great find – it's complete, in very good condition with all the latest upgrades, and can be inspected at IES Semiconductor Parts.

IES Semiconductor Parts can offer an installation service if you need one.
Any interested parties should contact our team for more information by calling +44 (0)117 380 0600 or emailing info@iessemiconductorparts.com
---
2 FSI ANTARES CX 200mm Systems
We are offering a special deal on two FSI ANTARES CX Cryo cleaning systems. The systems are complete and in working order.
The FSI (TEL) Antares CX surface preparation is a single-wafer, fully automated, CryoKinetic system that is used to process 200mm/300mm wafers. To safely remove nanoscale particles from device surfaces, the system uses cryogenic aerosol technology. Unlike other wet technologies, the Antares CX system is an all-dry process that lowers defects without causing damage to the water surface, even on porous low-k film and copper. As a highly effective, yield increasing defect removal tool, it can be used for a range of applications. Whether you require help with post film deposition, post via etch, or post inline prob testing, the FSI (TEL) Antares CX CryoKinetic system is the ideal solution.
If you're interested in learning more about the two systems or make an inspection, simply get in contact with a member of the IES Semiconductor Parts team today. You can call us on +44 (0)1179 380 600 or send an email to info@iessemiconductorparts.com