Keeping Semiconductor Manufacturers Operational: Introducing Our Parts Workshop Service
Maximising the lifespan of their plants is a priority for semiconductor manufacturers. That's why firms across the globe turn to the IES Semiconductor Parts workshop when 'tool down' occurs and OEMs can't help.
When your television breaks, you buy a new one. When your ion implanter fails, you do everything you can to fix it.
That's because replacing the specialist equipment used in semiconductor manufacture can be cripplingly expensive and down time is not an option.
Semiconductor manufacturers make their plants last as long as possible – with many production lines using equipment and parts that are two, even three decades old.
But what happens when a part can't be fixed?
An OEM may either no longer support the plant needed, or charge an unaffordable price for the new component and make the customer wait months for delivery.
The device manufacturer faces a business-critical situation. A better solution is needed.
Introducing the IES Semiconductor Parts Workshop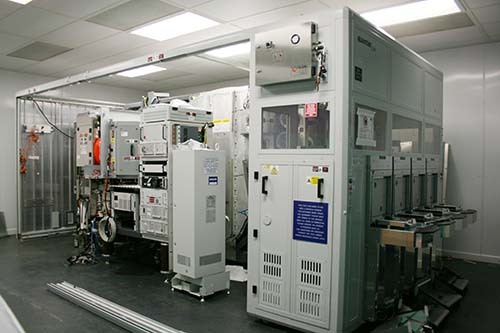 IES is pleased to offer a comprehensive parts-replacement service for semiconductor manufacturers, stocking more than 4,000 parts for semiconductor manufacturing systems.
This includes one of the world's largest selection of used parts for ion implanters.
"The machines we specialise in supporting are now obsolete," explains IES MD Niels Morch. "OEMs stopped making them years ago and now offer very limited support for manufacturers. They're typically focused on their new products and don't want to get involved with 20–30-year-old machines."
Each part supplied or repaired by our workshop is competitively priced and delivered quickly, to keep our customers operational.
"If we have the part in stock, we can deliver most parts same day or next day," says Niels. "If a manufacturer is in the UK and has a tool down, they call us in the morning and can have it to their factory just after lunch.
"If a customer is in mainland Europe or on the US East Coast, we can usually supply next day. If a customer is in Asia, we can generally get parts to them in 2 to 3 days, depending on where they are and the part they require.
Each part supplied by our workshop also includes a warranty for customers' peace of mind – something other parts workshops are unable to offer.
"This means we'll replace the piece if it's faulty, or we'll repair it in our workshop," says Niels. "If we can't repair or replace, we'll offer a full refund."
The Exchange Model
Many of the parts in our catalogue cannot be found elsewhere. Refurbishment or repair is the only way to make these parts available to our customers, which is why our workshop operates on an exchange model.
When we supply a customer, we take their broken part in part-exchange. Then we diagnose and fix the component, keeping it in stock for the future.
In this way, we can continue to offer specialist, hard-to-find parts at a competitive cost – supporting our customers into the future.
"The only way we can keep the parts business going long-term is to offer exchange," says Niels; "It's good for our customers, because we pay them for the part, and good for us, because we can keep the business going. Otherwise, if we sell the last one, we have to shut the workshop!"
Engineering Experience
Diagnostic and repair work is done by our skilled engineering team.
"In the workshop, we have experienced individuals with 35–40 years of experience stretching back to the beginning of the semiconductor industry," says Niels.
These include equipment engineer Peter Godwin – who joined us following 3 decades at Plessey Semiconductors, Varian Semiconductor and a range of other manufacturers across the globe.
Specialising in electronic engineering, Peter is an all-around semiconductor specialist with electronic, mechanical, pneumatic, hydraulic and high-vacuum skills.
"I can fault-find down to what we call component-level," explains Peter. "Instead of taking out boards and equipment, I can find the individual parts that have gone wrong in a plant, which saves scrapping off fairly large, expensive pieces of equipment."
Diagnosis of this type is often impossible because components lack electrical drawings and belong to larger plants, making them difficult to test.
Peter's experience, however, enables him to think like a designer and pinpoint the issue affecting a component. Then he rebuilds it using expert mechanical reverse-engineering and electrical reverse-engineering skills.
"Our engineering teams have access to mechanical milling machines and CNC lathes that enable us to make plastic and metal parts automatically. This is also a fairly unique offering among semiconductor workshops," says Peter.
"A lot of the parts we're asked to repair are no longer supported by their OEM, which is why reverse-engineering is so important. And if they are supported, the OEM takes too long to supply it. That's where we come in!"
Speed, Skill and Critical Cost-Savings
Our parts workshop offers a critical lifeline for semiconductor manufacturers across the globe – helping them resume operations quickly and easily, at a fraction of the cost charged by OEMs.
Our exchange model, meanwhile, means we can continue to offer this essential service into the future.
"IES Semiconductor Parts has an enviable reputation in the industry, across all sizes of fabs," says Niels.
"We have a truly world-class set-up for parts and repair, and some of the best resources in the world behind it. There are other companies offering support and repair, but we are one of a few specialising in ion implanter parts and repair.
"No-one else can do what we can!"
To find your component, search our parts catalogue online, or contact our workshop team directly, on +44 (0)117 380 600.